Our knives are made in Thiers, in Auvergne. Thiers' cutlery-making tradition dates back to the 15th century, when the pure water flowing down from the Massif Central mountains gave steel tempering an exceptional character. Cutlery-making has become more modern of course, but Laguiole knives making remains a craft.
Knife assembly is a key step in the Laguiole manufacturing process. Our cutlery-makers take the greatest care when performing it since it is when you knife acquires its solidity, impeccable finish and perfect locking characteristics.
Our knives are adjusted by hand according to age-old methods. We guarantee their perfect finish, the quality of each of the elements they are made of as well as the seamless fit of all the components together. How serious are we about this ? Our Laguioles come with a lifetime guarantee.
Illustrating the knife assembly process
Illustrating the knife assembly process

After a rigorous quality control of parts, the cutler begins the hand assembly and shaping of the knife.
He prepares the wooden board for the handle.
He makes a first assembly.
He makes the final assembly and finishing polishing and sharpening
Preparing the handle

Preparing of wooden boards is the first operation to prepare the handle

1 The plates are used as template cutting wood platelets to the right size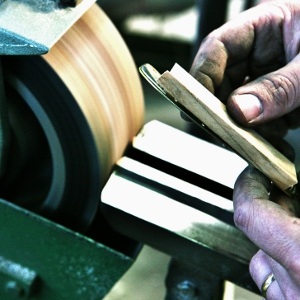 2 The wooden boards are adjusted to the shape of the plates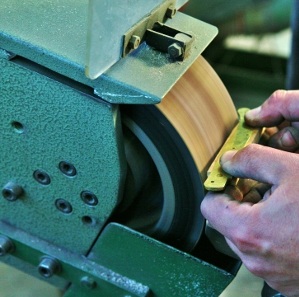 3 Wooden boards are pre-drilled for easy mounting of the knife


First assembly
First assembly of the knife

1 The knife handle is assembled for the first time.




2 The curvature of the handle shaped by the use of an abrasive belt


Disassembly
Disassembly of knife handle

1 The handle is disassembled and the plates are polished



2 A roulette wheel adorns.The upper part of the plates


Final assembly
Final assembly of the knife

All parts are ready, now they have to be assembled
| | |
| --- | --- |
| | |
| | |
| | |
| | |
Finishing touches
Bringing the finishing touches to the knife

One last go on the abrasive belt, to give the knife handle its gently curved shape




Final polishing of blade and handle




Last sharpening for the blade