Follow the guide, this is the "Cutler's advice" moment !
How to buy the best knife for you ?
Buying a strong knife that accompanies you for years implies checking some essential points.
1) Choosing a strong and sharp blade.
You're about to choose your knife according to the use you're going to make of it: therefore, you need a sturdy, reliable and easy-to-handle blade.
Be sure that its strength, length and width are adapted to its final use: cutting meat, butchering game, tinkering or harvesting.
In general, you will find two types of blades: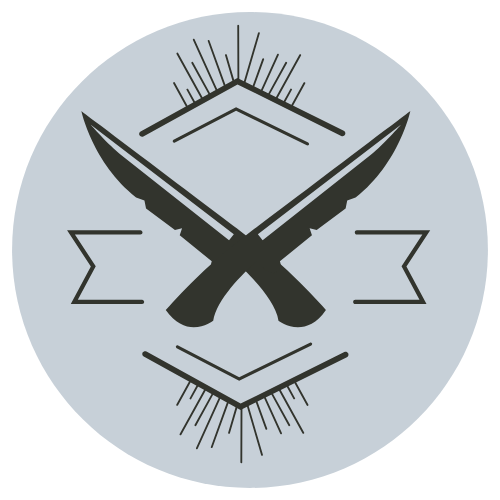 The CARBON STEEL blade which is a mixture of iron and carbon. This composition creates cheap blades rather than strong ones.
☑ Pros: cheap.
☑ Cons: rusts quickly and regular sharpening required.
-THE STAINLESS-STEEL blade composed of a mixture of iron, carbon and a chromium alloy. This alloy creates very sharp blades.
Pros : the blade doesn't rust and stays sharp for a long time.
Cons : expensive to purchase.
▶ Be careful : a good blade implies necessarily a greater investment. Beware of knives at low prices, their blades are often made of stainless-steel without carbon, they are less sharp and more fragile. These knives won't last very long !
FORGED OR SERRATED BLADE - WHAT IS THE DIFFERENCE ?
Blades forged in steel: the blades provide you a better grip, because they are heavier and sharper (they will also be more expensive). The other blades are cut in a sheet of steel, they are less sturdy and less reliable, even though their price makes them more attractive, don't yield to the Siren's call !
Smooth or serrated - what to choose? Smooth ! Unless you need a bread knife. Don't think serrated knives are more effective: they generally tear the meat and food apart, and it's a shame to make such an affront to your beautiful entrecôte steak !
2) How to define the size of your tang ?
The tang is the part of the blade which is hidden in the handle. The longer, the better !
In fact, if it runs along the full length of the handle, your blade will be even stronger and your knife far better balanced.
3) How to choose your handle ?
"Whether it's in ABS (plastic), IN PAPERSTONE (from recycled paper) or in wood (whatever the type), the handle of your knife must be easy to handle."
Some manufacturers go as far as to adapt the handles according to whether you are right- or left-handed, but you should rather think that a big handle and a small hand are not necessarily a good match !
In any case, your handle will be chosen depending on its final use : you won't choose the same handle to go sea fishing or to cut carrots !
Unlike fixed knives, folding ones slide effortlessly into your pocket. Ideal for an adventurer, to go hunting or fishing, the Laguiole pocket-knife is a handy and reliable tool.

Choosing a folding knife.
1) Choosing the blade.
It is necessary to choose the blade depending on the size of your palm. Several lengths are available: 9 cm for small hands, 10 cm - 11 cm and 12 cm for the most impressive hands.
If you want to take your folding knife everywhere, choose a stainless-steel blade which doesn't rust. This way, outdoor getaways won't taint the wonderful blade of your tool.
▶ Sturdiness of the blade.
A solid blade is strong but needs regular sharpening to keep its cutting edge. If you're not familiar with the knife sharpener, a stainless-steel blade is softer, but requires less maintenance than a steel blade.
2) Choosing the handle
Palissander wood, rosewood, olive wood, juniper wood, mimosa wood, wooden handles are soft and acquire a nice patina over time. Laguiole knife purists love them, but wooden handles need appropriate maintenance and care depending on the type of wood you choose.
In French cutlery, everything is possible: you can choose the wood, but also eco-friendly materials such as the eco-friendly Laguiole knife with a paperstone handle or treat yourself with a designer aluminium handle such as the Laguiole bird knife with full aluminium handle.
3) Special folding knives
The Laguiole Forge manufactures quite a few treasures. For pocket-knife lovers, the possibilities are endless !
Regional knives: the Vendetta (Corsica), the Yatagan (Basque Country), the Kenavo (Brittany), the St-Guilhem (Mediterranean area), the Massu (Limousin) - each of these Laguiole pocket-knives carries the respect of tradition and brings a little extra soul of your hometown.
Exceptional folding knives: "Damascus" blades - these thin blades are forged with passion by our knife-makers. Their designs are unique, and their beauty unparalleled.
The multifunctional knives: you can opt for a Laguiole pocket-knife with corkscrew or a fishing knife with disgorger and a hooking ring.

Criteria for a good knife.

To help you make a relevant choice, here are a few simple tips to follow to find THE KNIFE OF YOUR DREAMS.
How to recognize a strong and sharp blade.
Made according to its final use, your blade must be sturdy and easy to handle.
It's up to you to be pay close attention to the stiffness, length and flexibility: will they suit you when it's time to cook ?
The blades of your knives come in several materials; the price will be an indicator of their quality.
On the one hand, you have carbon steel (a mixture of iron and carbon) that makes strong but not expensive blades, the problem is that they will rust very quickly and need REGULAR SHARPENING.
Then, you have stainless-steel (iron, carbon and chromium alloy). It will give the blade a lasting sharpness: it doesn't rust, but it will be much more expensive to purchase.
• Should we choose a forged blade or a serrated one ?
Blades forged in steel provide a better grip, because they are heavier. You will also appreciate their unparalleled sharpness, but much less their high price.
• Length of the tang.
The tang is the part of the knife which is in the handle. A long tang provides you a long-term strength, it also contributes to the general balance of the knife.
Don't you ever ask again: smooth or serrated blade ?
The answer is smooth - unless it's to cut bread. Period.

What type of handle for your knife ?
You can choose from a large range of knife handles: plastic, wooden, chrome plated, metal… What you want to do with your valuable tool is up to you.
Regardless of the material you opt for, you must choose a handle which fits your hand perfectly. A good catch in hand is the most important for a perfect cut !

▶ Don't forget the daily maintenance: there must be no space between the tang and the handle, otherwise bits of food, as well as bacteria, will be stuck in there.
▶ If you don't like washing the dishes by hand, choose dishwasher-safe materials resistant to high temperatures and water.

To be sure you have a perfectly sharp knife in all circumstances, we have listed different ways to sharpen your favourite blade for you.


Different sharpening techniques for knives.
How to sharpen the blade of a knife correctly with a stone ?

▶ A sharpening stone for a well-sharpened knife
First of all, place the sharpening stone in the water for a few minutes.
The natural sharpening stone must then remain wet throughout the sharpening. If necessary, moisten it during the process.
Place the blade on the stone respecting an angle of 20°, you will use your free hand to maintain the stone in place during the sharpening.
You must go back and forth to sharpen the knife - simple and effective.
Just as during the use of a steel rod, you will need to clean the blade to remove the iron filings.

Do you know how to sharpen the blade of a knife with a sharpening stone ?

You don't ? Any doubt ? Then this video will be useful.
A sharpening steel to sharpen your knife

The sharpening steel, you've already seen one hanging behind the butcher's stall or in your cook friend's drawer: this is this cylindrical steel rod which is very useful. For a good knife sharpening process, it's important to place the blade of the knife on the instrument (ideally a wooden board) and to respect an angle of 45°. Then, just move the knife down the steel rod and be sure you rub the blade on the tool carefully.
For a proper sharpening, you must repeat this by alternating between the two sides of the blade. Then, don't forget to clean your knife with a soft cloth in order to remove the iron filings produced by the wear of the metal.
A matchbox to sharpen a knife.
This is a little more atypical sharpening process for your knife. Indeed, just a matchbox is enough to have a well-sharpened knife. If this technique is very practical during a hike, it doesn't guarantee a perfect sharpening and must be practised on an exceptional basis.
To avoid using this somewhat cavalier tip, you can opt for a pocket-knife sharpener which is more practical and more conventional.
All these tricks are useful for those who need a sharp knife and to give your favourite blade a new life.

How to keep a folding knife for a long time ?

Choosing a knife with care and not protecting it in a leather sheath afterwards would be a huge mistake. Don't forget to place your thin blade in a protective sheath in order to keep it in a full operating state for a long time !
To maintain a flawless cutting-edge, you can equip yourself with a pocket-knife sharpener which will be useful when your blade is less sharp.
You've just received the Laguiole cutler's advice so you can choose your knife in full knowledge of the elements to be checked. If you still have questions, we remain at your disposal by phone: +33(0)4 77 58 97 50 (from Mon. to Fri. 8am-12pm/1.30pm-6pm). Please don't hesitate to contact us !